Prologue: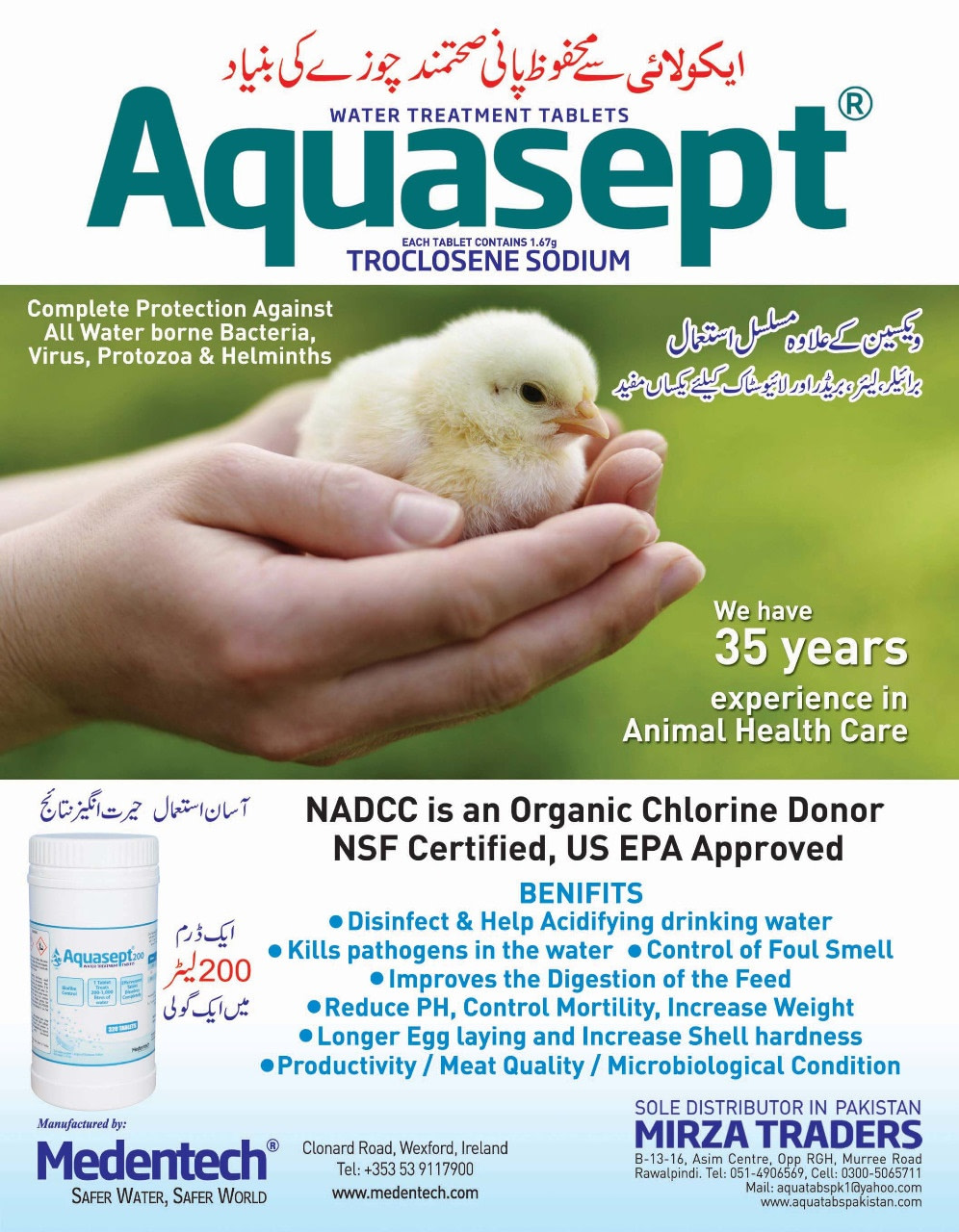 Aquasept are World's Best Effervescent tablets which contains Troclosene Sodium (NADCC) and is approved for lifelong poultry and livestock consumption. Aquatabs are portable tablets that is used for the disinfection of livestock drinking water. Each tub of Aquasept will make 5mg/l of active chlorine in 1,000 litres of water. This amount is enough to kill microorganisms and other harmful pathogens in water and at the same time safer for drinking of livestock.
Product package: 320 tablets contain 17g of active chlorine. Which is packed in plastic tub with a shelf – life of 3 years.
Aquasept is used in following combinations:
Smaller unit disinfection.
Central water supply with fixed water bodies
Central water supply with rotating water bodies.
Uses of Aquasept in Pakistan
Aquasept as Biofilm
Aquasept as Ecoli protection
Aquasept as Farm Disinfect
USAGE:
1 tablet contains 5 mg/l of available chlorine when dissolved in 200 litres of water. After 30 minutes water is free of micro-organism and it can be used for drinking purpose.
Aquasept as BioFilm Protection:
Drinking water bodies of livestock and farm houses provide ideal environment for the development of micro –organism including them are some pathogens like bacteria, viruses and fungi. Even residual vitamin, supplements and medicines can support the growth of microbes which can effect livestock yield. And farm house production.
That is why  it is advisable to disinfect and clean water bodies with a suitable product. It can be dealt on daily basis to achieve the result. This process is known as bio-film.
In order to protect livestock drinking water bodies from these pathogens for the purpose of bio filming
Aquasept as Bactericidal & Virucidal
Aquasept as fungicidal, sporicidal, algaecide
For bactericidal and virucidal activity it is needed to make 5ppm solution by adding 1 tablet of aquasept 1.57g in 200 liters of water. But it is important to rememeber that aquasept kills ecoli in water and is ineffective in infected chicken body.
Benefits of Aqusept in water
Low Cost Water Purification System
Treats Water at Point of Entry
Attic & Ground Tanks
Community Water Points
Private Wells & Group Water Schemes
Rainwater Harvesting Systems